How does it work?
Like an in-person consultation. After you complete your purchase, just fill out our confidential Online Image Consulting Inventory Form. As the sample below illustrates, you will be asked about your lifestyle, goals, measurements, style preferences, and whatever else you are comfortable disclosing.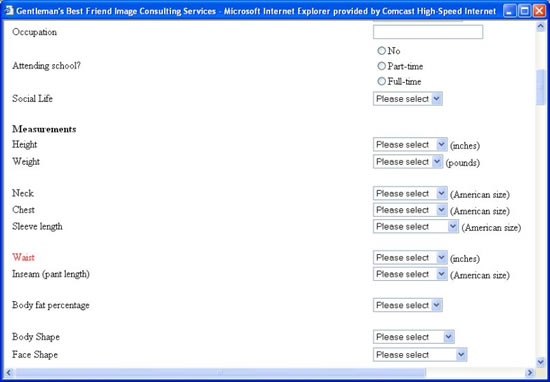 You will then be asked to submit at least 3 recent digital photos of yourself (click here for Picture Submission Guidelines). You should easily complete the whole process within 30 minutes.
When we receive your materials, we will assign one of our experienced image experts to evaluate your combined data and to provide you with the image upgrade advice that best suits you.
Within two business days, your personal image consultant will e-mail your customized, detailed assessment to you.
Our Pledge to You
Gentleman's Best Friend Image Consulting Services will never sell or share your information with third parties.